The draft order is finally set after months of waiting. And quite frankly there is no real shock here.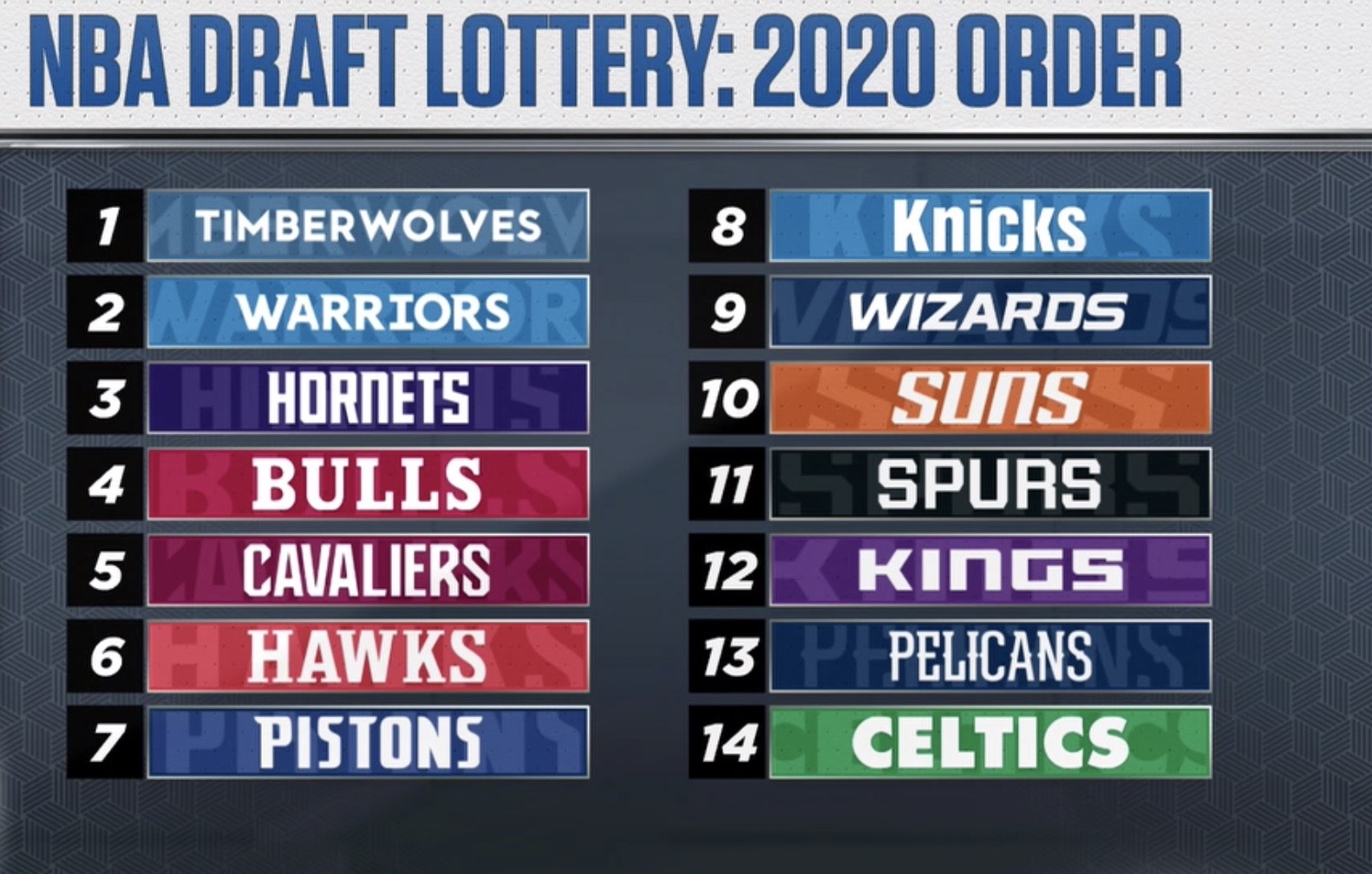 The Timberwolves were tied for the best odds to land the number one pick along with the Warriors and Cavs. The Warriors got the number two pick for their struggles this season, and the Cavs slid to number five as the Hornets and the Bulls landed in the top four jumping up above the Knicks, Pistons, Hawks and Cavs to do so.
Winners
Timberwolves: You are adding the number one pick to an existing core of KAT and DLo. Sure, it's not a great draft, but adding one Anthony Edwards, James Wiseman or Lamelo Ball will put your franchise in a great place for years to come. Personally, my number one guy for them is Anthony Edwards. Malik Beasley has been great for them, but he is an RFA so just incase he gets a bag you might want to protect yourself with a solid replacement that can help this team make it back to the playoffs.

Warriors: They would obviously would have rather gotten the number one pick, but it could have been a lot worse. Landing the number two pick for the Warriors preserves most of the trade value for the pick as they try and surround Steph, Klay and Draymond with talent for that final championship push or two. I really have no idea what the trade value for the second pick is in the draft, but all they need is for one of the other 29 teams to fall in love with a guy and trade some proven NBA talent for the pick. It could really be anyone. Any way. Here is a video of Steph and Klay lighting it up from deep just so you remember how good these guys are.
Hornets: There is a drop off in talent in a lot of people's opinions after the number three pick. So for them to be able to jump five spots to land in the top three is a huge win for the franchise. They seem to have hit on their last two first round picks with Miles Bridges and PJ Washington so adding another young potential all-star to the mix in the Queen city is a huge win for the Hornets. Wiseman would probably be the ideal fit here, but getting Ball or Edwards could create a really nice back court trio with Graham, Rozier and Ball/Edwards.
The NBA: Every year it seems like there are conspiracy theories about the lottery being rigged, but this year I doubt they will exist. The numbers call for a couple of teams to jump up and those teams weren't teams like the Pelicans, Grizzlies or Suns, where people could have suspected that there is something fishy. Or the Knicks where it's always rigged when New York gets the number one pick. These are bad teams that got the top 4 picks, and in all situations I can see it benefiting the NBA for years to come as we look for more parity in the league
Losers
Knicks: ouch. Number eight?!? Who knows where the Knicks go from here, but the dream of Lamelo is dead, even though I think it works out better for everyone that he won't be in New York. Nothing against him, but I don't like his fit in Thib's system. They will still have an opportunity to get a potential starter. Maybe the right move is to keep Cole Anthony home. Man that would be cool. Or maybe Deni Avdija somehow slides to you. Regardless, the opening odds for Knicks fans booing the pick is at -300.
Bulls: Even though they moved up they missed the top three. Sure, they can hit a nice double with a pick like Obi Toppin or Isaac Okoro, but the potential of having Anthony Edwards or Lamelo Ball in Chicago would have been huge. And who knows come draft night there might be a surprising pick and I will have to tuck my tail between my legs as the Bulls would quickly move into the winners column if that is the case.
Cavs: Oh Cleveland. How wild your franchise is. You are gifted Lebron and you take him for granted, then he leaves and you burn everything he has ever touched. You then miraculously land three of the next four first overall picks, but miss out on the best one. Then when he comes back you love him again and have a contending team. You win a title and then he leaves for good because you traded away all of your young talent to go for those championships. Now, in life without Lebron 2.0 you really have nothing. Sexton, Garland and Porter are nice players but you are seemingly still looking for that face of the franchise. Anyone would have done, but unlike your brethren with the worst odds, you jump back to the fifth pick and are stuck trying to swing for the fences again.

It's mock draft SZN